Bonuses & Special Benefits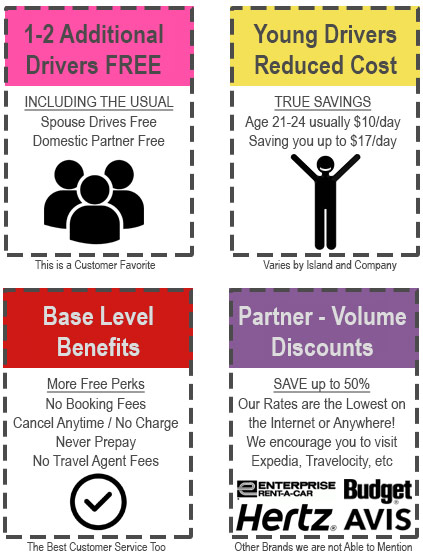 Hawaii Extra Driver Fees Often Waived!
Read below to learn more about adding additional drivers for your rental vehicle.
A domestic partner is your spouse when renting a car through our service. You will never pay an extra driver fee when renting through us. It's industry-wide policy to allow a spouse / domestic partner as an additional driver for no charge. Most of our partner brands also allow for 1 to 2 additional free drivers. (This is one of our best offers)
Highly Reduced Young Driver Fees
You must be 21 or older when you pickup. Some companies have a higher minimum age; 25 or older. Others charge a daily young Driver fee of $20-$27/day plus taxes. No us, we have negotiated a discounted young driver fee of $8/day; saving you up to $17/day. The only limitation would be availability and/or location.
• Our Exclusive Digital Coupons are applied as you search our inventory of car rentals on this page.